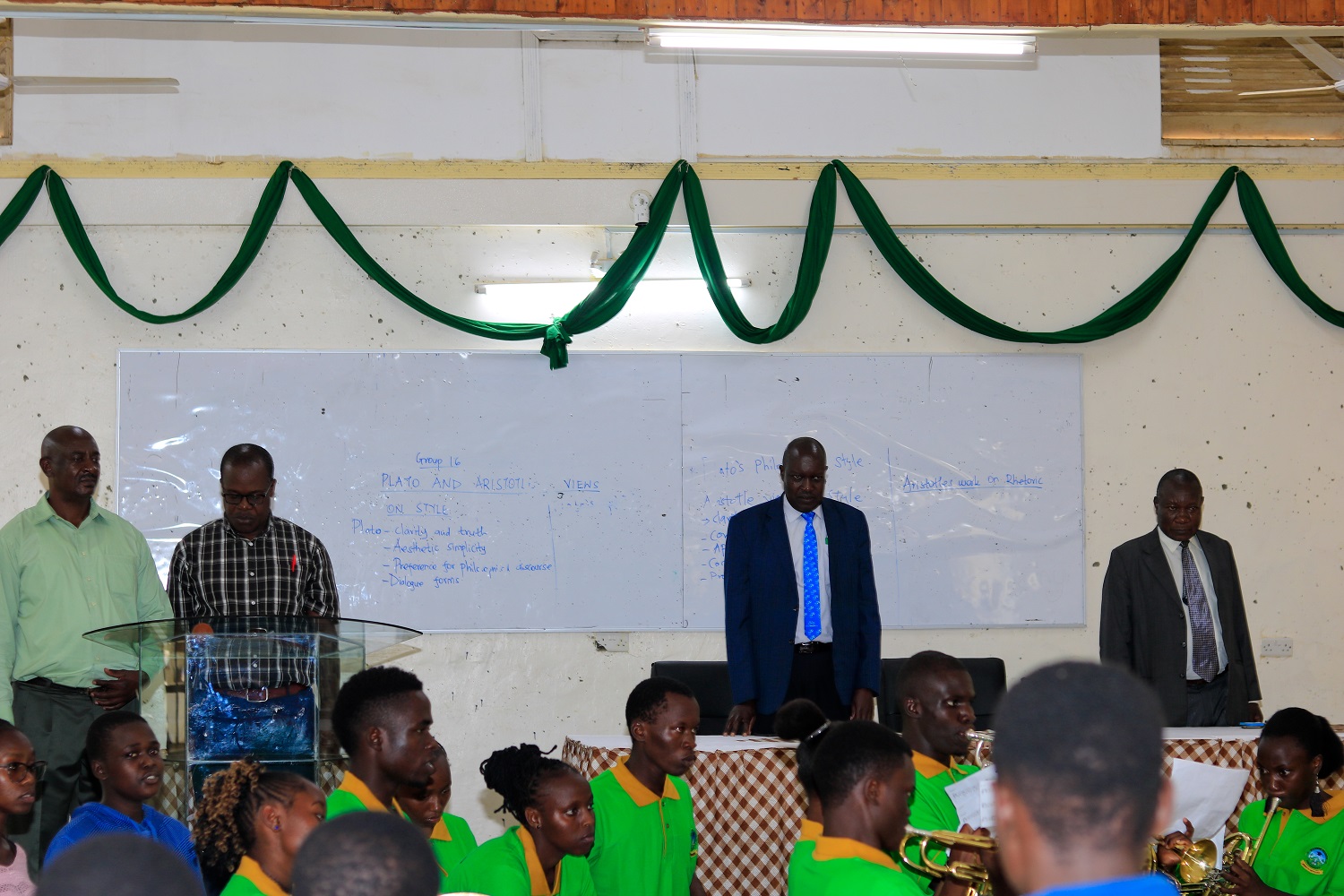 In a dazzling display of vibrancy and camaraderie, Kaimosi Friends University (KAFU) commenced its annual Tamasha student cultural week on the 15th of November, 2023. The university grounds were transformed into a kaleidoscope of colors as students, faculty, and staff gathered to kick off three days of celebration.
The curtain rose on this cultural spectacle with a grand opening ceremony officiated by the acting Deputy Vice Chancellor, Prof Julius Kipkemboi, standing in for the Vice Chancellor, Prof Jack Nandi. Prof Kipkemboi, in his spirited address, emphasized the importance of games in maintaining physical well-being and fostering bonds between students and lecturers. He passionately asserted that the beauty pageant, a dazzling component of Tamasha, serves as a platform for students to showcase their unique talents.
"Books are essential, but too much study without play can lead to sedentary diseases. Tamasha is our remedy, a vibrant fusion of culture, sports, and talent," remarked Prof Kipkemboi, setting the tone for an eventful three days ahead.
The glittering affair saw a constellation of esteemed university staff, including Prof. Mourice Amadolo, the acting Deputy Vice Chancellor Academic, Dr. Karanja, the acting Dean of students, and Dr. Fredrick Monanti, the Tamasha Committee Chair. The presence of luminaries such as Mr. Sandagi, the sports manager, among other officers and students added an extra layer of excitement to the festivities.
As the sun dipped below the horizon, the sports arena came alive with a myriad of indoor and outdoor games (football, volleyball, handball, hockey, tennis, tag of war among others), each pulsating with energy and competition. Students showcased their athletic prowess, competing fiercely in a friendly spirit that echoed the university's commitment to holistic education.
The crescendo of Kaimosi Friends University's Tamasha 2023 is set to be nothing short of spectacular, reaching its zenith with the much-anticipated grand final event – the Beauty Pungent. This dazzling spectacle promises an array of captivating performances, including a fashion show that will redefine style, mesmerizing catwalk displays, and awe-inspiring muscle flexing. The pinnacle of the evening will be the crowning of the coveted titles of Mr. and Miss KAFU, an accolade that carries not just prestige but also a myriad of well-deserved rewards.
In the coming days, Tamasha promises to be a crescendo of culture, sportsmanship, and artistic expression. With a vibrant array of activities on the horizon, KAFU is poised to create lasting memories and forge stronger connections among its students and faculty. Tamasha 2023 is not just an event; it's a testimony to the university's commitment to a well-rounded and enriching educational experience.