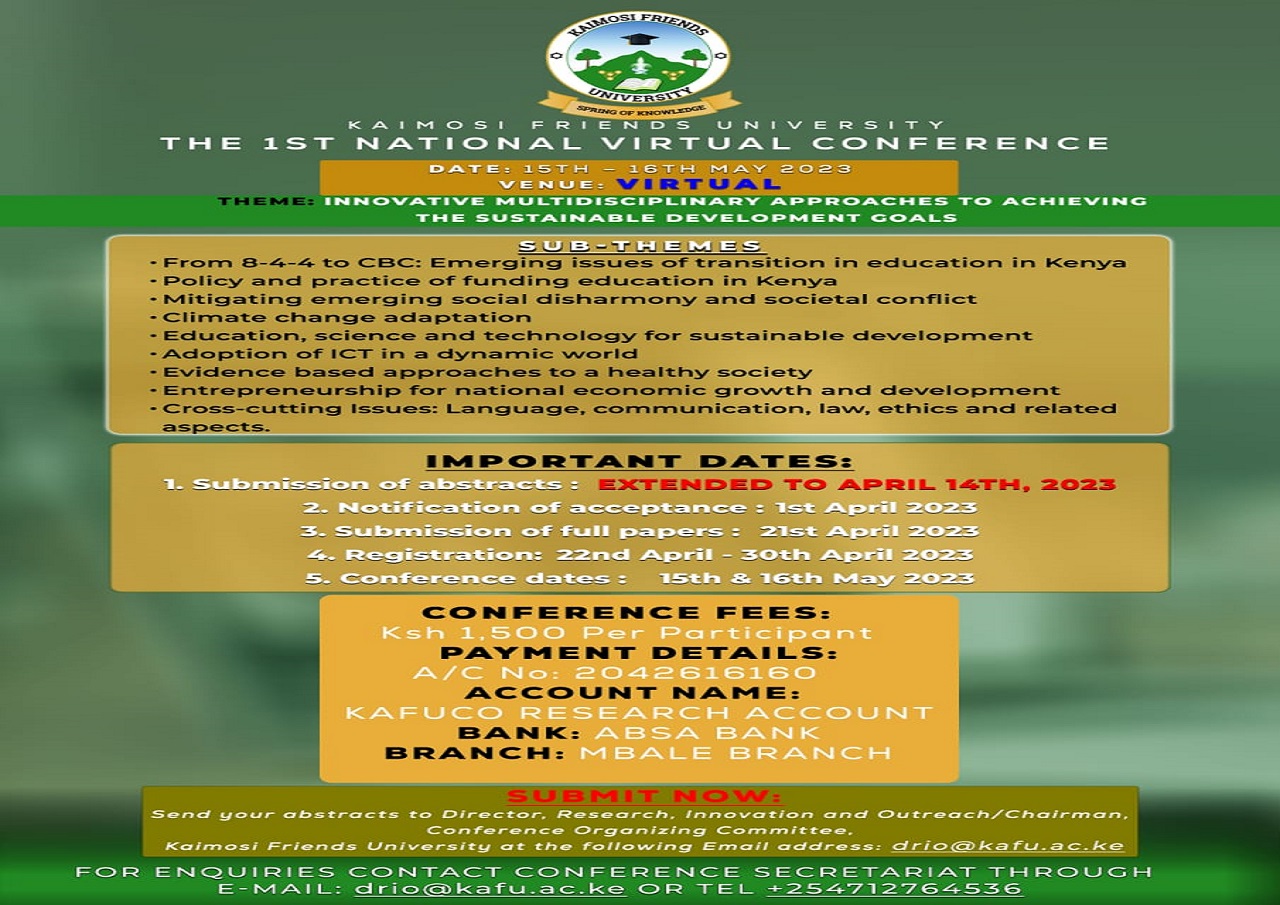 Kaimosi Friends University is set to host two groundbreaking conferences in May 2023 that will shape the future of academic research and innovation in Kenya.
The Society of Educational Research and Evaluation in Kenya (SEREK) will organize the first conference, which is themed "Innovations and development, harnessing technology in Africa: current and future prospects." The sub-themes include education development, economic strategies, gender equality, environmental management, pandemics and calamities, mandatory management, and tourism. The conference aims to bring together industry experts, scholars, and stakeholders to discuss the role of technology in Africa's development, identify opportunities for development, and explore ways in which technology can drive progress and solve pressing issues.
The second conference is Kaimosi Friends University's first national conference, scheduled for 15th and 16th May 2023. This scholarly forum has attracted 58 presenters from over 20 universities and research institutions, showcasing a wide range of expertise and disseminating cutting-edge research findings and work in progress. The theme of the conference is "Multidisciplinary approaches to achieving the Sustainable Development Goals." The sub-themes include current issues such as climate change mitigation and the transition from 8-4-4 to CBC system of education. The conference aims to ignite a debate on the direction of academic research towards solving world economic, social, environmental, and educational challenges in the 21st century and beyond.
Among the presenters are renowned experts such as Kenyatta University's Prof. Joy Obando, a leading scholar on climate change and a geographer who is also a DAAD scholar. She will be joined by Prof. Bernard Okelo, a Mathematician from Jaramogi Oginga Odinga University of Science and Technology.
Other presenters at the conference include Dr. Alex Koech, an entrepreneurship don from Umma University, Dr. Adan Maalim, an Educational Management expert from Garissa University, and Prof. John Okoth, a Nursing Sciences expert from Masinde Muliro University.
KAFU's acting Deputy Vice-Chancellor of Academic and Student Affairs, Prof. Julius Kipkemboi, a biological scientist and a water expert, will also be presenting at the conference, alongside national competency-based curriculum expert Dr. Jane Imbunya of KAFU and Prof. Misia M.M. Kadenyi, an Education Professor from Maasai Mara University.
These two conferences are of significant importance to Kaimosi Friends University as they align with the institution's vision of being a leading center of academic and research excellence in East Africa. The conferences provide a platform for innovative ideas and collaborations that will drive sustainable development in Africa. They are an opportunity for the institution to showcase its research and academic capabilities and provide a platform for industry stakeholders and scholars to discuss pressing issues affecting the African continent.
KAFU's commitment to academic and research excellence is demonstrated through the Directorate of Research, Innovation, and Outreach's mandate to generate and incubate research ideas, translate them into systematic knowledge reserves, and facilitate their application in solving community and national problems. These two conferences set to take place at Kaimosi Friends University are timely and relevant to the current state of affairs in Africa. They have the potential to provide a platform for the dissemination of advanced research undertakings and demonstrate to the wider scholarly community that KAFU is ready for take-off, having been chartered on August 2nd, 2022. The KAFU conference organizing committee led by Prof. Benson Ojwang' aims to deliver an international conference in 2024.