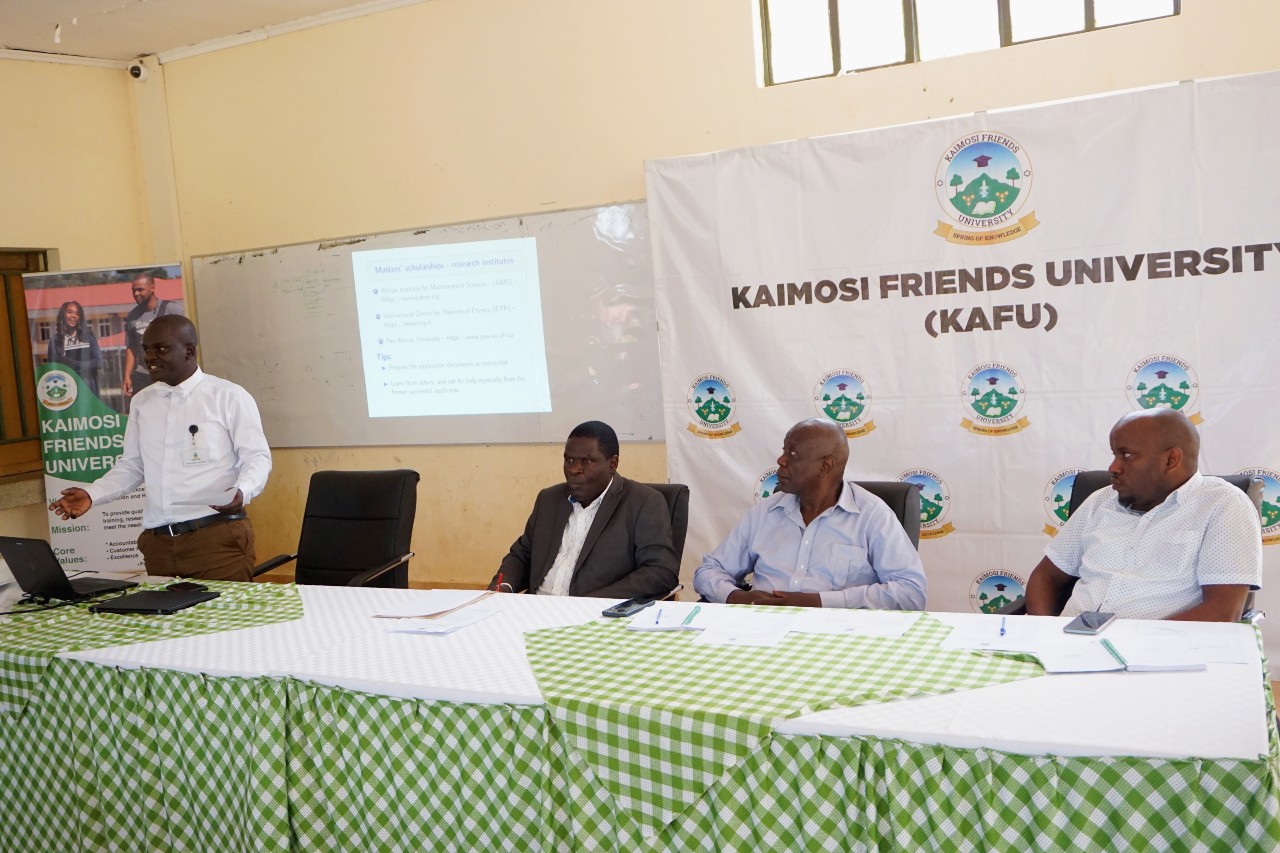 On March 29, 2023, KAFU hosted a seminar with Geoffrey Mboya, the director of Mfano Africa, a mentorship platform backed by the Oxford University Mathematics Institute. The seminar aimed to sensitize KAFU's postgraduate students on scholarship opportunities worldwide through the program.
Mfano Africa, launched in August 2020, provides online coaching for pre-PhD mathematics students to improve the quality of their postgraduate scholarship applications. The platform offers coaching on networking skills, preparation and application for scholarships, research integrity, and career paths for students.
Professor Benson Ojwang', KAFU's Director of Research, Innovation and Outreach, emphasized that the seminar provides an opportunity for collaboration and research networks. Linking students to postgraduate scholarships is expected to result in international collaborations, attract top talent, increase diversity at the University, and improve career prospects for graduates.
The seminar was attended by last year's graduates seeking master's and PhD scholarships, third and fourth-year mathematics sciences students, and members of faculty from the school, including the Dean of the School of Science, Dr. George Opande, and the Chair of the Department of Mathematics, Dr. Samuel Apima.
March 21, 2023 |Kaimosi Friends University hosted the Vihiga County multi-stakeholder workshop to deliberate on ways to bridge gaps in water resource management ahead of the World Water Day celebrations on 22nd March.
The workshop brought together the County, national agencies, civil societies, academic and the private sector for discussions on coordination of water service provision and conservation. It sought to take stock of various stakeholders, examine impacts of climate change on water sector, discuss and prioritize appropriate technologies and innovations in water supply and management and to forge a roadmap for structured partnerships and collaborations.
This was an opportunity for the University to strengthen collaborations with the County Government. KAFU has partnered with the County Government to establish a Climate Change Center