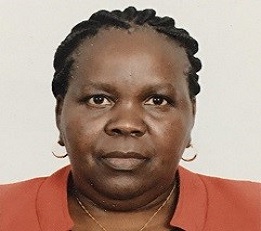 Ms. Josephine Waruguru Macharia-Kanyi.
MBA(UoN),Bsc.Econ(UoN)
(Alternate to the Cabinet Secretary, National Treasury).
---
Ms. Josephine Waruguru Kanyi is a Senior Deputy Director in the National Treasury Budget Fiscal and Economic affairs in the Department of Intergovernmental Fiscal relations.
She holds a Bachelor's Degree and Master's Degree in Economics from University of Nairobi.
She has served in the Ministry of Planning and National Development from 1991 to 1994, Ministry of Research and Technology (1994-1998) Ministry of Finance 1998-2010 as head of Intergovernmental Fiscal Relations and Business Regulation Reform Units. She served as Chief Economist in National Treasury from 2010-2016.
She has attended Courses on Fiscal Decentralization and Financial Management and Tax Policy Analysis and Revenue forecasting at the Harvard University USA &Macro Economic Diagnostics at the IMF institute in USA.
She also serves in Kenya Hotel Properties Ltd Company, Business registration service board and has also previously served in KIPPRA Board, Kenya Vehicles Manufacturers Board and LATIF Advisory Board.