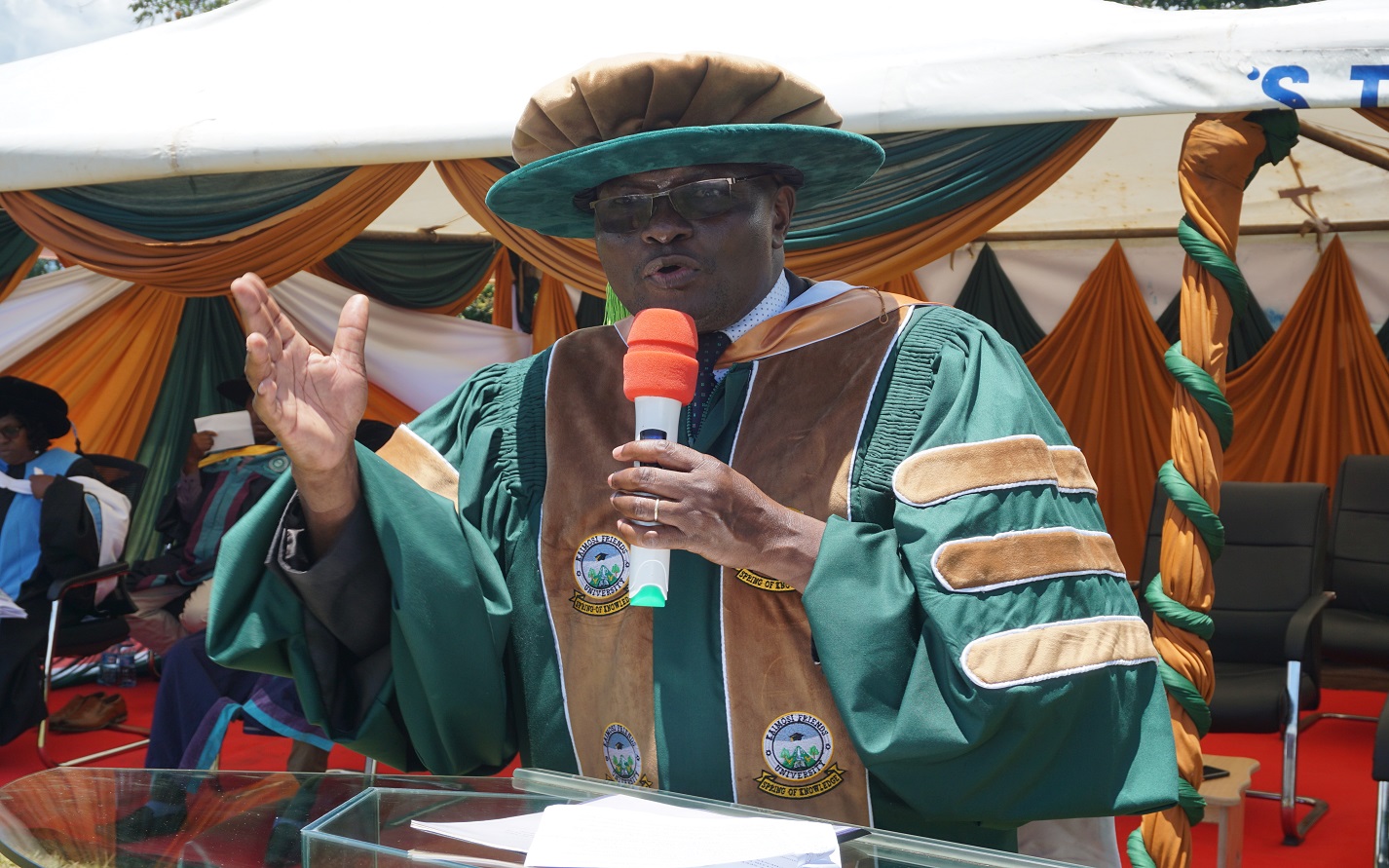 The orientation program for the first students to be admitted to Kaimosi Friends University (KAFU) as a fully-fledged university drew to a close on Friday 9th September, 2022, with calls for academic excellence dominating the Vice Chancellor's address.
More than 850 of the 1118 undergraduate students admitted into KAFU had reported within the first two days and had, from Wednesday, been undergoing orientation to acquaint them with the university leadership, academic programmes, facilities and environment. Some 107 students admitted into other universities had revised their choices in favour of KAFU.
The Vice Chancellor's welcome address and luncheon was the culmination of this rigorous orientation programme steered by various units of the university administration.
In his address, the acting Vice Chancellor Prof. Ogodo, M.J. Nandi underscored KAFU's commitment to offer its students a good foundation on which to build successful careers.
He said: "Dear students, the first year of university education is a foundation time. You will need to immerse yourself in the university to enrich your campus experience. Take advantage of the resources and opportunities that this university avails to you. We endeavour to give you the best foundations to an independent life in your chosen career paths.
We are placing at your disposal a well-grounded faculty who are highly qualified, engaged and excited by your prospects. They will challenge you to raise your achievements intellectually and academically.
We are in the process of reviewing our programmes to be in line with the government's newly rolled out System of Education, the Competency Based Curriculum (CBC). As such, preparations to receive the first CBC cohort to the university system in 2029 are in top gear. The CBC system of learning is based on the needs and potentials of Individual learners under a flexible framework and parameters that move and shift according to the learners' ability."
KAFU, he said, prides in timely completion of students and challenged the new students to stay focused on the core mandate.
He added that KAFU strives to provide an enabling environment to students, staff and research collaborators and strongly encourageD involvement in research.
"We promise to fund innovations geared towards solving societal problems," he said.
The acting DVC Finance and Development Prof. Amadalo Maurice asked the students to ensure they pay fees in good time so that their learning is not interfered with and university operations are not crippled due to lack of funds.
He assured the students the University would go to lengths to ensure their stay is comfortable and the environment continually conducive for learning and other activities which sum into holistic development
Acting DVC Academic and Student Affairs Prof. Julius kipkemboi retraced KAFU's infrastructural development journey from 2014 when it was established as a campus of Masinde Muliro university of Science and Technology to where it currently boasts of modern labs, refurbished hostels and lecture theatres such as the flagship Uhuru Kenyatta Tuition Complex, whose completion went into convincing the Commission for University Education that KAFU was ripe for university status.
He reiterated calls for fortification of the selected degrees with other offered certificates and diplomas, saying this would give the students a competitive edge in the labour market.
The Registrar Academics Dr. Jane Amunga said the students had earned their spots at the university and challenged them to demonstrate to the world "what it means to be a world class university."
She said the orientation had ensured they were well grounded on the university experience.
"Do not slack your way through the university; attend classes and remain on top of things. Develop discipline gained from various speakers during this to orientation to excel in all spheres of university life. Use the opportunity KAFU accords you to forge relationships for a good social capital," she advised.
She pressed on: "Today emphasis is on skills and problem solving. If you remain focused, you will go into the world a problem solver. Let your learning stretch you and effectively stretch KAFU."
Learning begins in earnest on Monday 12th September 2012. Continuing students report back on campus on the same day.
Click here to read the Welcome speech by the Vice Chancellor